The gals over at
Five Minutes for Mom
, are sponsoring another contest. The challenge is to post one of your favorite motherhood moments - it could be a funny story, an essay, a photo or whatever else captures your memory best. Go on over and enter!
Here is my favorite moments:
The summer of 2005, after we moved back to the states from England, my 95 year old grandmother was diagnosed with brain tumors.
We made plans with my parents and brother to travel to Iowa at Christmas time to visit. In late October my grandma's doctor told my dad that grandma's time was short, and that we needed to consider traveling up to say our goodbye's earlier at Thanksgiving.
My Grandma had never met DJ, and my Grandma had a soft spot, special love, in her heart for little boys. Probably because my dad and all of the cousins were all boys. But my Grandma told everyone and I mean everyone about DJ, and how she couldn't wait to meet DJ. She showed his picture to everyone that went to visit her, and would ask a couple of the nurses that looked like Kelsey, why they hadn't brought DJ to visit when "she" came to visit (she mistook 2 of the younger nurses for Kelsey on a fairly regular basis in the last month before we were up to visit).
One of my favorite motherhood moments is this one, introducing my grandma to DJ.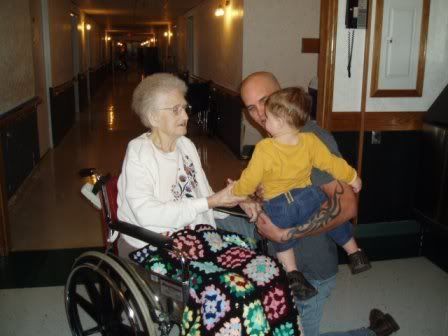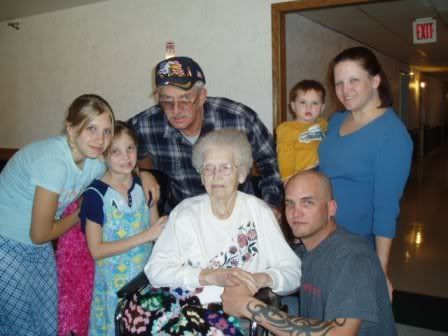 Later that same weekend we took a short drive from Burlington to Iowa City to have Thanksgiving with my mom's family, and introduced DJ to my Grandma and Grandpa.