I have been asked multiple times since Friday morning to put what the launch day was like into words, and honestly until today I didn't think I could. I am still not sure I can do it justice, and there are people that are much better writers than I that have done so already, but I am willing to give it a try.
The NASA staff warned us as we were leaving Kennedy on Thursday afternoon/evening that the decision as to tanking the external fuel tank would not be made until about 1:30 am, and if they chose not to tank, then we didn't even need to bother coming into Kennedy for the day, they would send us emails telling us what to expect next.
I woke up at about 1:45 am on Friday morning to meet my carpool from Daytona group at the hotel. Luckily for me, my friend Andi that I was staying with had just gotten home from work so we could turn on the news to see what was up. The news announced at 2:02 that tanking had started, so I started getting ready for the day. I left Andi's house on the beachside of Daytona at about 2:40, and stopped to grab doughnuts on the way to the La Quinta where most of our group was staying.
We left the La Quinta at about 3:20am for Kennedy Space Center. The weather was OK, a few sprinkles here and there, on the drive down. We stopped at a Circle K for a caffeine refresher, and to purchase newspapers, and got the the press accreditation site at about 4:45am (we could not go through the gate until 5:00am) where we passed around doughnuts and peaches to the RAVE that was happening of NASATweetup people who had arrived there. :-)
About 4:50 am someone said let's get this show on the road and start a convoy down to the press site for the people that already have their passes, so those who don't can get in here and get their's.
Our car pulled through the gate at about 4:55 am, and luckily Captain Soft Hands (given his nick name by @RennaW after @dazeofadventure took a picture of his hands the day before) let us through a few minutes early.
We pulled into the Tweetup parking lot at about 5:05 am, and this was the sight that greeted us:
We were in the 3 hour hold at this point, and the crowd went wild when the clock started moving again!
At about 6:30, or so we went out to the countdown clock and took a group photo:
Then shortly after we wandered over to wave at the Astrovan roll by as it took the Shuttle Crew out to the launch pad.
Then we heard from Bob Crippen, the pilot on the very first shuttle mission! What a momentous occasion.
After Mr. Crippen left, Seth Green came and shared a piece of music that he along with other people had
Bear McCreary write
.
A very short snippet of which is
here
After which our "official" program was over, so that we had time to explore the media site, get some food, tweet to our hearts content, etc. I went and found my
personal reporter Kyle
,
I got to go into the media press site, and see what there was to see in there.
Then I left Kyle and went out and walked through the media trucks and people watched, where I saw Anderson Cooper doing an interview, still not sure who he had with him though... so I called Kyle and got him over there by me, and we watched for a while.
Then I went back to the tent, to learn that I had just missed getting to talk to the ISS. :( So sad.
About 11:15 or so we all started wandering outside toward where most people had set up their tripods ahead of time. I did not set mine up, because I wasn't sure if I was even going to try to get pictures, or if I was just going to enjoy the moment. A few of my tweetup friends had the tall (like 6ft.) tripods with their huge lenses set up and I discovered that being short, once again was a good thing. As I was able to stand directly in front and underneath their cameras, and not block their views. A plus to this, was if someone else tried to get in front of us, I could use them to say hey you are in our way. :-)
Around 11:23 or so the excitement started to really build, and we could hear more and more things happening over the loud speakers.
31 seconds to launch, the onboard computers take over launch.
There was a slight hold, where it looked like we might be in trouble after all and not get the launch in when the venting arm (not sure if thats the right word, but thats what it does, it vents all of the gaseous vapors off the shuttle), didn't appear to retract from the shuttle like it should have.
Then the next thing we heard was all systems go.... the next thing that was clear?
T-10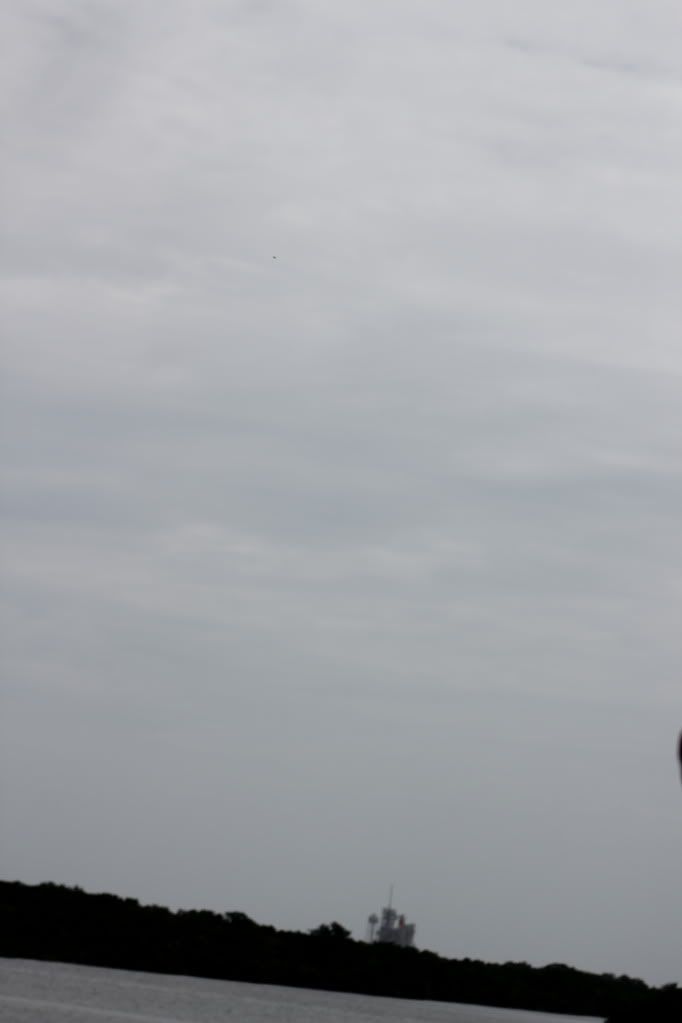 9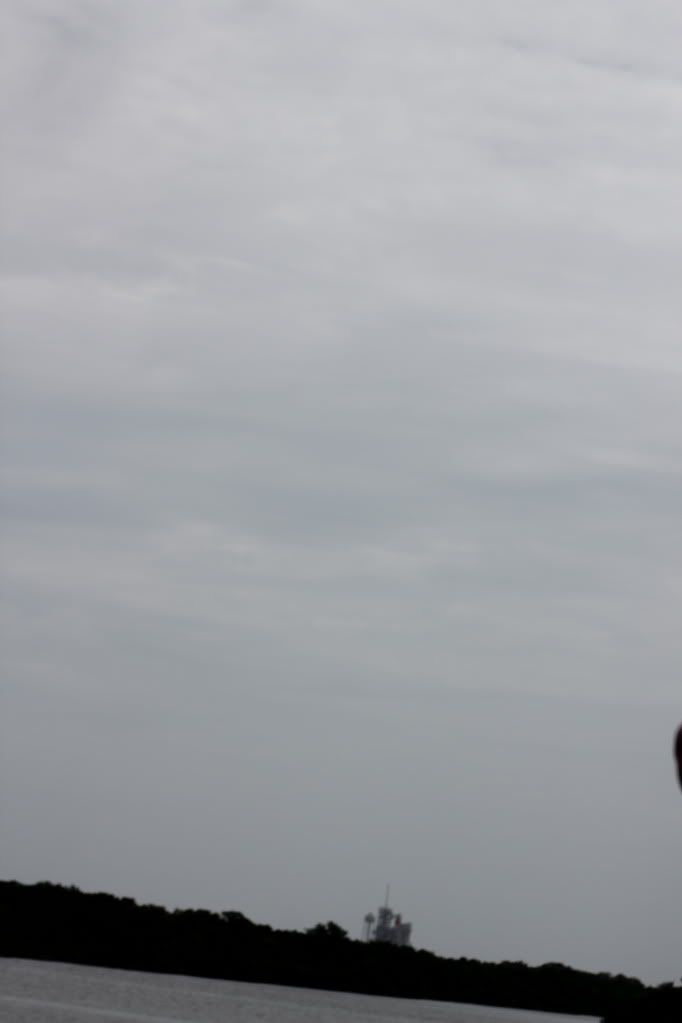 8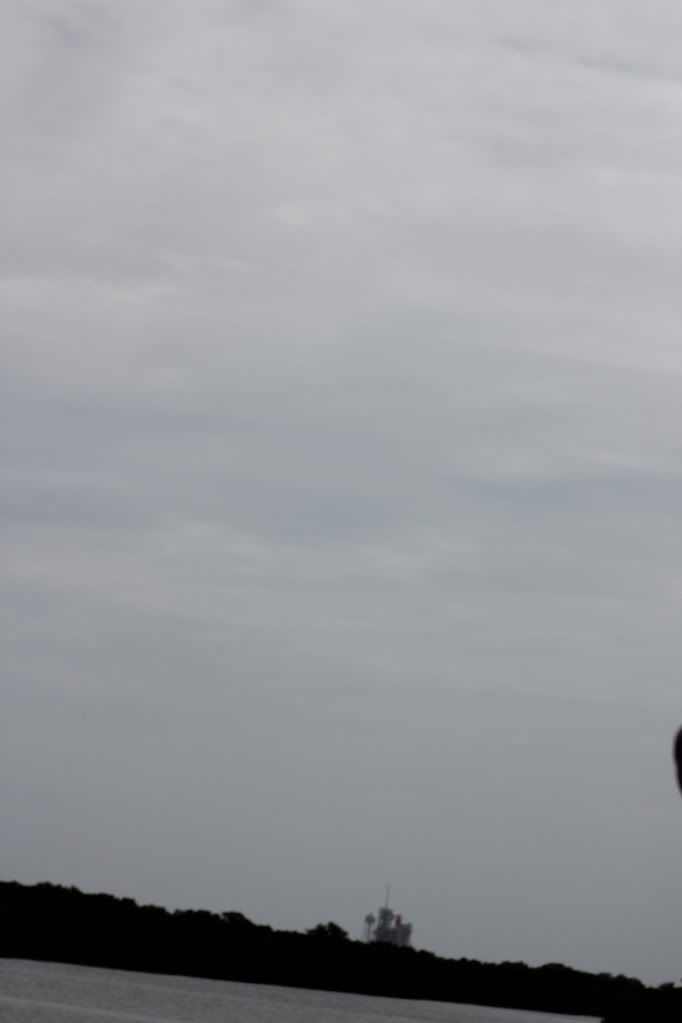 and the crowd gets into the count down, and I start holding down the shutter button on my camera, not knowing if I would get decent pictures or not, and not really caring because I knew I would find some floating on the internet that I could share, but I lucked out and mine came out!
7
6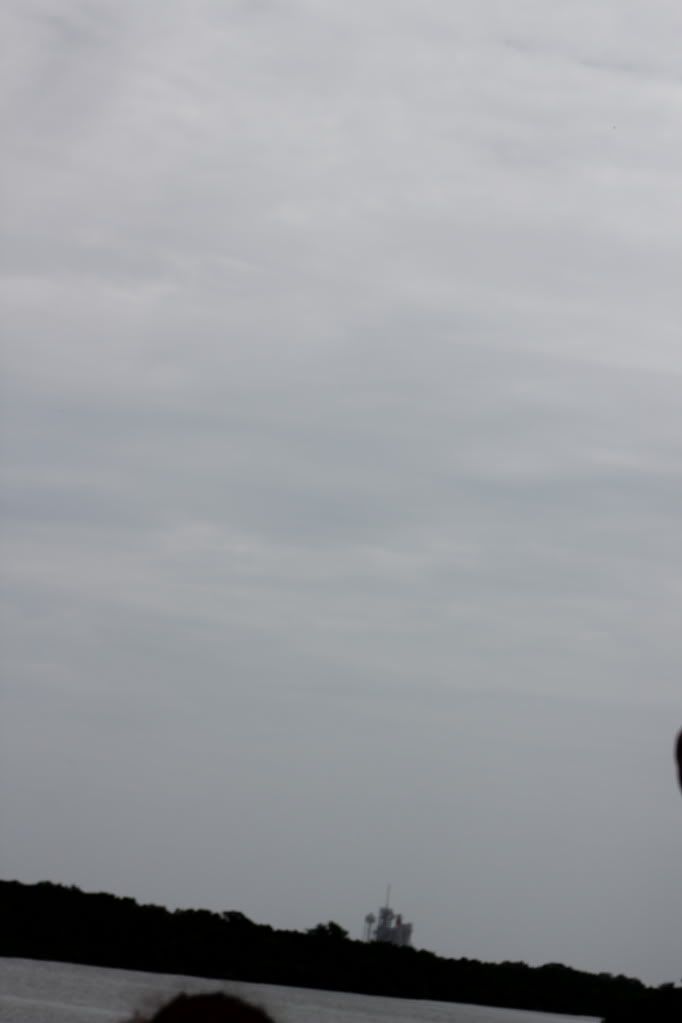 5
4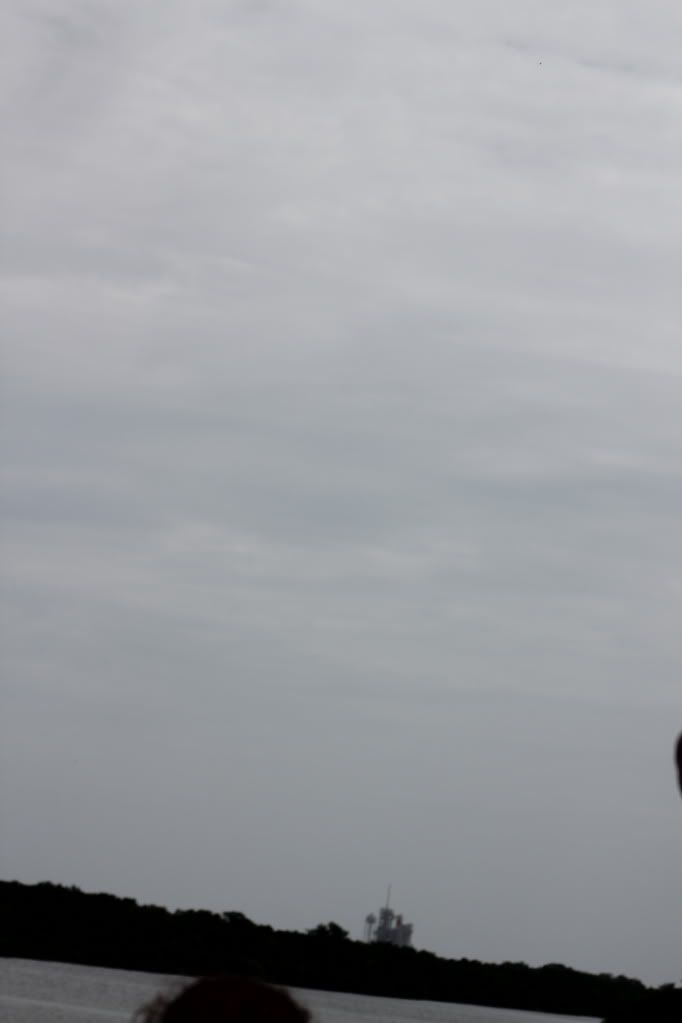 3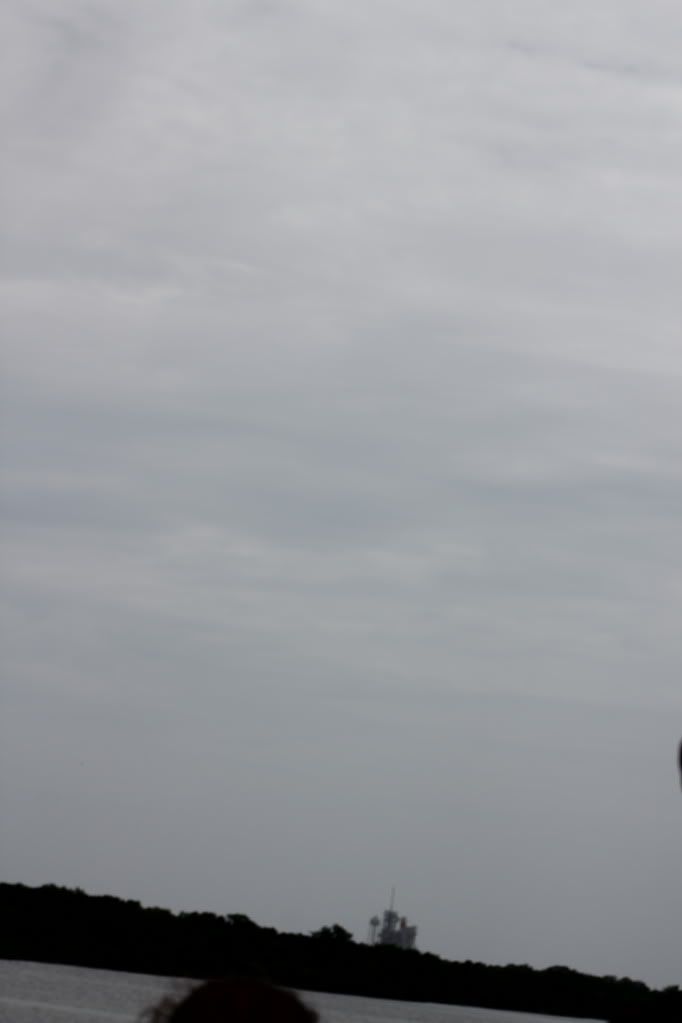 2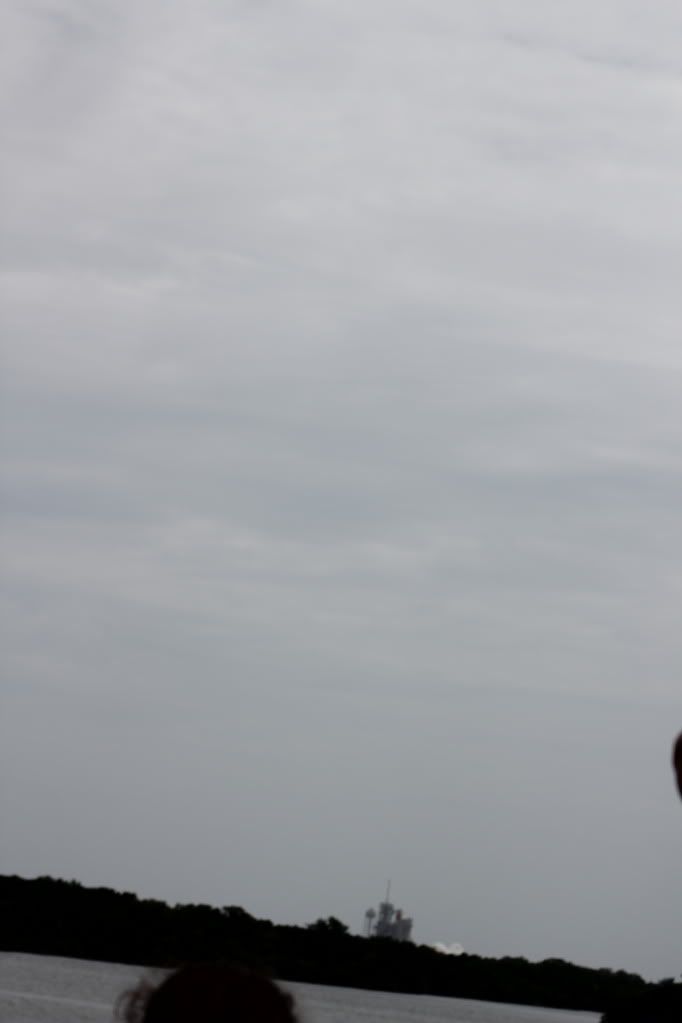 1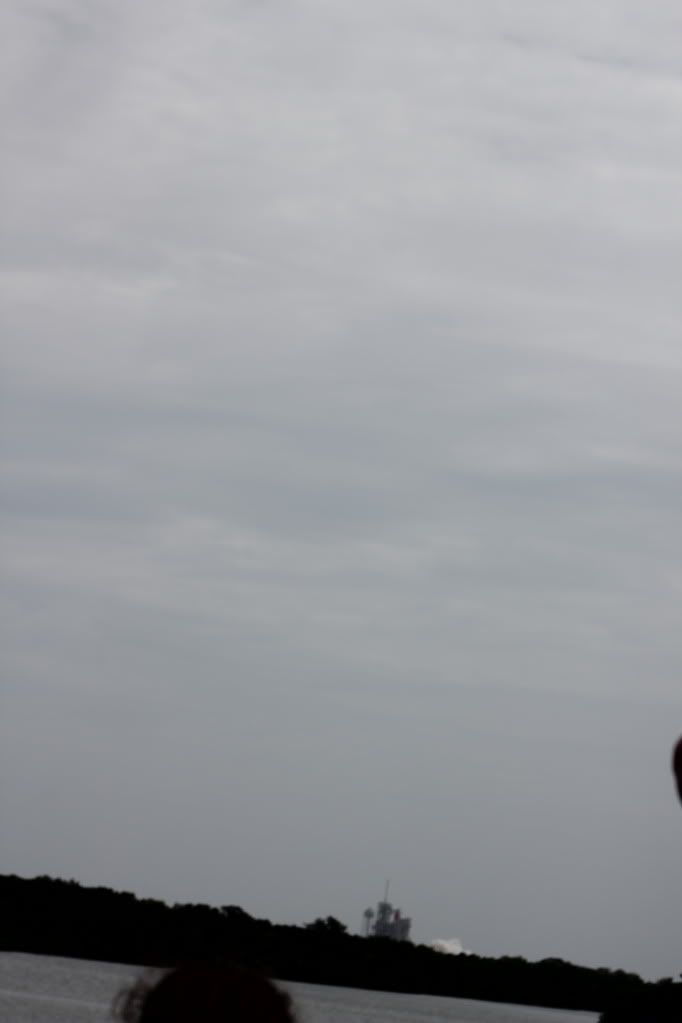 I heard the hissing sound of the initial main engine start, not sure if it was over the loud speakers at the press site or if it is really that loud that we could hear it 3 miles from the pad.
Then as we stared really hard across the way
The sound just started rolling over us, it was so loud, you could feel the reverberations.
and the ground started shaking, I saw on twitter where someone figured it out that the ground at the press site was moving about 459 miles per hour
and the tears started falling as I was saying, "oh cool, that is just so cool!"
The light was beyond description, it was so bright,
I could not take my eyes off of the shuttle (and its only a shuttle, until the SRB and external fuel tank detach, then it is called an orbiter,) until it was lost in the clouds
The entire time saying a prayer for the safety of the crew of shuttle, a prayer for the entire NASA community as an era comes to an end, and a prayer that our government will remember that space exploration is essential to knowing our world and improving it.
Once the shuttle was out of sight we all headed back into the tent and proceeded to watch the SRB separation on the big screens, and cheered when MECO was achieved (main engine cut off).
The remainder of the day was spent tweeting, bloging, talking, picture taking and just enjoying the company of those we were with.
You can see a video shot by one of my fellow tweeps at http://vimeo.com/26219905 :-)
We got to see a few more famous people
As we headed for the car, we took time for a couple of last minute pictures, me, @rennaw, @adamtreineke @dazeofadventure and @almostrocketsci
On our way leaving the press site we stopped at the visitor center so we could mail a few STS-135 letters, and then by the astronaut hall of fame, where the skies opened and it started pouring down rain. It rained our entire way back to Daytona, really hard to where I was only going about 40 miles per hour for most of the drive. But we made it safely, and so did Atlantis!
So there you have it, my day in a nutshell. I am sure I have left some parts out, or even got them out of order (especially the technical stuff!) so please forgive me!
Tweet
Follow me on Twitter at http://twitter.com/#!/scienceesl