Today I subbed up in the toolies, and had a pretty good day. Of course they were on a strange schedule today because of a pep rally. Which since it was only my second time subbing at that school, made for an interesting day, to say the least. But the pep rally was fun, and made me miss teaching at that level. Of course since it is a small k-12 school the entire school got to go. The little ones (elementary school aged) were funny doing the chomp. :)
When I picked DJ up at school he was on the swings at the playground wearing these: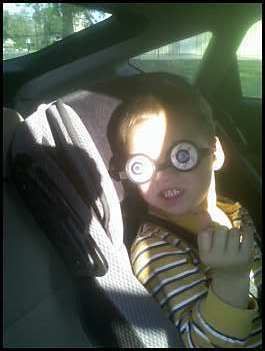 (bad quality picture sorry, its my phone camera.)
He picked them out of the treasure box for his prize today. Silly boy.
I also got a phone call about an interview for a position here in town today. P took a message and told her I was subbing today, so I am going to call on Tuesday, and see what it is about.
Jerry is on his way home for the weekend. I probably wont get to see him a whole lot because I am working at Lowes both Saturday and Sunday. I was only supposed to work on Sunday but the HR called this evening and asked if I could cover a shift tomorrow afternoon/evening. The money will be nice, and I was spoiled the past couple of weeks having the weekends off.