I have two requests tonight, before I go to work.
Remember back in January when Julian lost his fight with cancer?
Julian's family is doing the Relay for Life in their home town in Texas to help raise money for cancer research.
follow the link to
Mimi's relay team and DONATE!
Their RELAY FOR LIFE IS TOMORROW!
Make a donation for Julian as he smiles down on his Mama...because he "loves her more better!"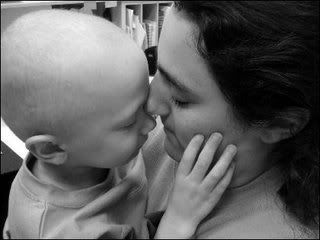 And then
Nathan from Confessions of a CF Husband
, is participating in the
Cystic Fibrosis Foundation's Great Strides walk tomorrow at Duke University.
Please follow the link and donate to this great cause.
If you haven't been by Nathan's blog lately,
there is a lot of news to report!
Go by and visit!!!