Today was my first day at work for the new store (new to me). The store is huge, and it is going to take a while to get adjusted to it. But as first days go it was a pretty good day.
DJ and Natalie were rough housing when I got home from work, and DJ ended up with a fat lip.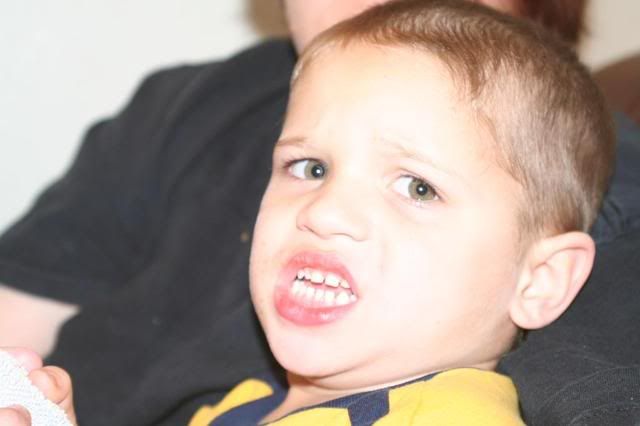 I am not sure how well you can see it in this picture, but he has one, and he told me to take a picture.
I am tired, the girls had a friend stay the night last night, against my better judgment (I said No, dad said yes) and managed to wake me up about a million times before I came out and chewed them out and told them to go to bed.
DJ was supposed to start preschool here today, or so I thought. But with the holiday the CDC was closed. I just wish I would have known this before I woke him up and dragged him out of the house at 7 am. I know, I know, I "should" have known, since the CDC is on base, but last week when we were there everyone said they would see us Monday, and its Monday. Plus when we drove by yesterday there was no sign up on the door saying they would be closed.
On
Nathan's blog last night
He posted that Gwyneth's CF screening came back negative, and that she is almost down to room air percentages of oxygen going through her vent. :) Tricia is getting stronger, with a few scares with her trac and coughing.
Please keep this awesome family in your thoughts and prayers, and if you haven't ventured over there yet please do so.
Ok short blog tonight, I am too tired to post much.