It is Sunday night again, and for once I am not wondering where the weekend went to. Of course this could be because I know where it went, or it could be because I don't have to work tomorrow, so I don't care where it went. ;)
Friday night we went out to a co-worker of Jerry's house for dinner and a bonfire with the people from his new shop. This couple live out in the toolies, but have a beautiful house, with a lot of land for their 3 dogs and two horses. Kelsey got a line on a couple of babysitting jobs, and DJ got to play and run around with some other little people, while Jerry and I just got to enjoy the company of the people he will be working with for a few hours, and get to know them better. Natalie was at a new friend's house staying the night.
Saturday morning bright and early I got up and drove down to
Americus
to go take a test for a state job. Lets just say it was an interesting test, the first 36 questions were spelling, take 4 words and say which one is spelled wrong. Then the rest of the questions were reading comprehension type of questions. Very interesting, lets just say that the state of Georgia needs someone to rewrite their tests, even if these are just the tests to see if you qualify to even be considered for a job, um yeah.
While I was in the room taking the test I started to get a headache, I am not sure if it was from lack of sleep on Friday night or from the perfume of the woman sitting in front of me. I of course couldn't run out to the car and take anything while doing the test, but the test only took me about an hour to complete, so I was hoping that I caught it in time.
On the way home I decided that I needed to stop and let my headache meds kick in, so I stopped at
Andersonville
, which was a Civil War prison camp, and now has the National POW museum on the property. The POW museum brought tears to my eyes, it is very well done and something that the creators can be proud of. Then I got back in the car and drove to the cemetery, and around the property before driving on home.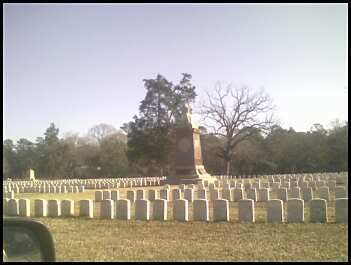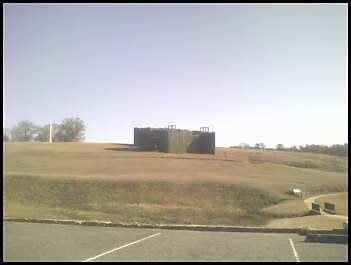 I am looking forward to going back down with the family in the future, where I can spend more time, and have my camera with me (the pictures were taken on my phone).
By the time I got into Warner Robins I thought that the drive home was the longest 55 miles of my life. My headache had turned into a full blown migraine. I ended up spending the rest of the day in bed asleep, so much for getting the house organized.
Last night Natalie went back to her new friend's house and stayed the night again. This friend is involved in the Girl Scouts, so I am thinking that this friendship will be a good thing, and it is nice that she has found someone that she clicked with so quickly. Kelsey has made a few friends in her first two days at school as well, which is nice, as the phone has rang for both of the girls. It makes me feel better about this move in the middle of the year.
Today, Jerry had to go into work, so the kids and I worked our hind ends off on organizing the house. I got my room rearranged, and only managed to break one thing. The house phone, I plugged the wrong power cord into it, and fried the base. So if you need to call and get a hold of us in the next couple of days, call one of the cell phones. I also managed to get most of the boxes unpacked that were cluttering up the dining room. I discovered that we do not have enough shelf space here and we will need to do something about that in the near future, my curio cabinet is cluttered now, as I discovered more of my grandma's things that I want to have out to enjoy. I put some glass bottles and candle holders on the top of the entertainment center, but Jerry is worried that they will break there, so they need a new home. But they are pretty there, see: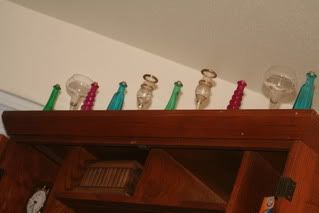 Tomorrow DJ and I go and enroll him in the CDC on base. I had found him a preschool off base that I was going to enroll him in, but the CDC is just as close, and it should be less expensive for the same if not better quality care. I just need to inquire into hourly care for Tuesday as that is when I have my substitute orientation, as he does not have a spot with the CDC until the following week.
Nathan over at
Confessions of a CF Husband
has put up more pictures of Gwyneth, including one of her great grandmother getting to touch her, so precious. As well as a couple of prayer requests for other families that have little ones in the NICU with Gywneth. If you have not been over to see his site go check it out now, and say a little prayer for Trisha, Gwyneth, and Nathan.